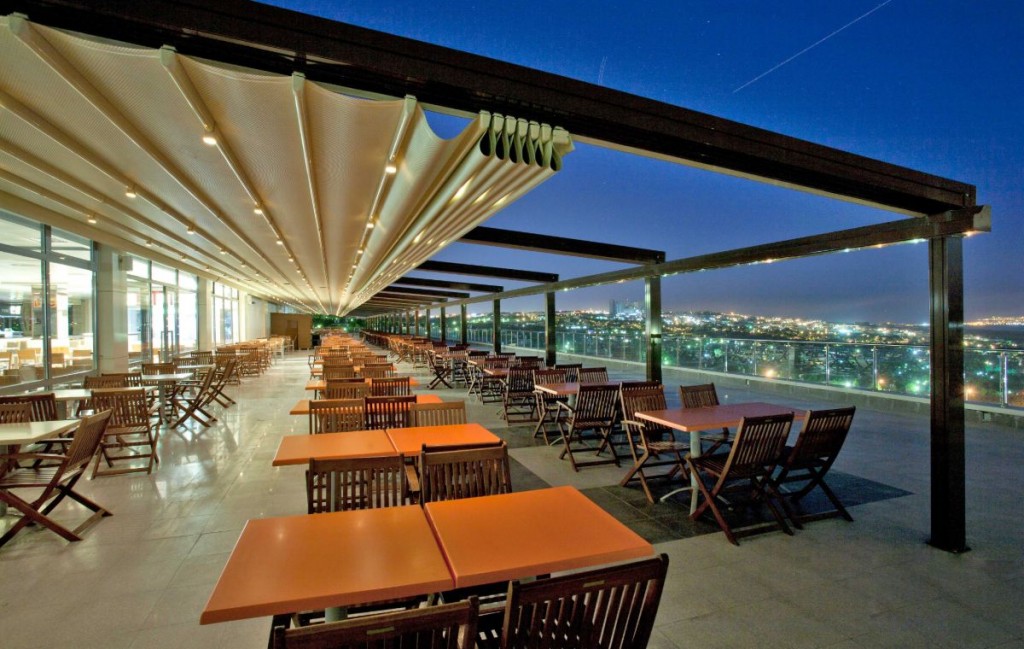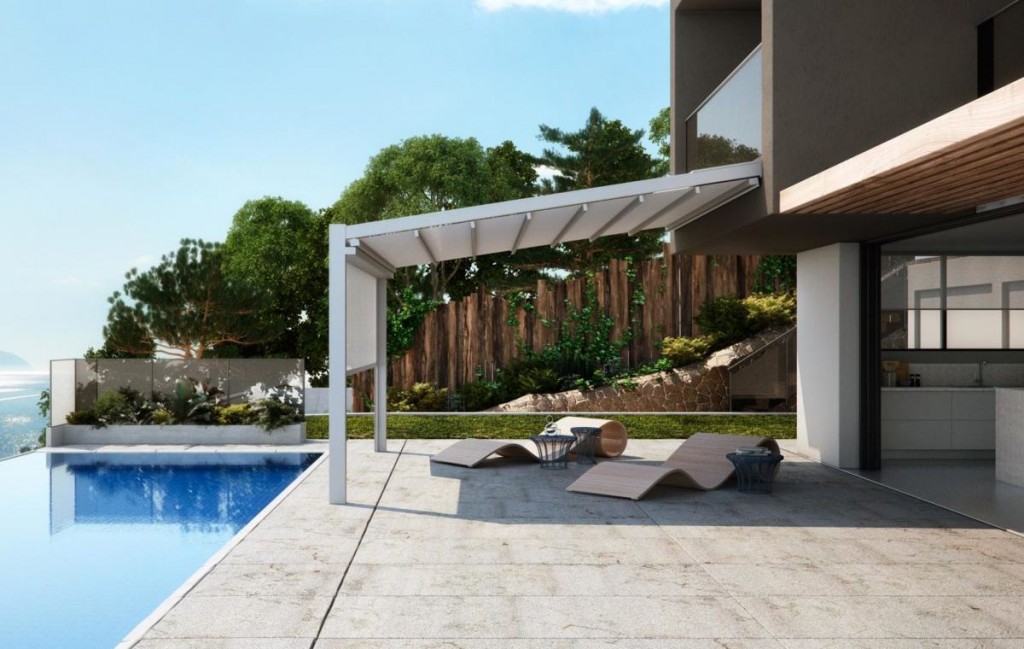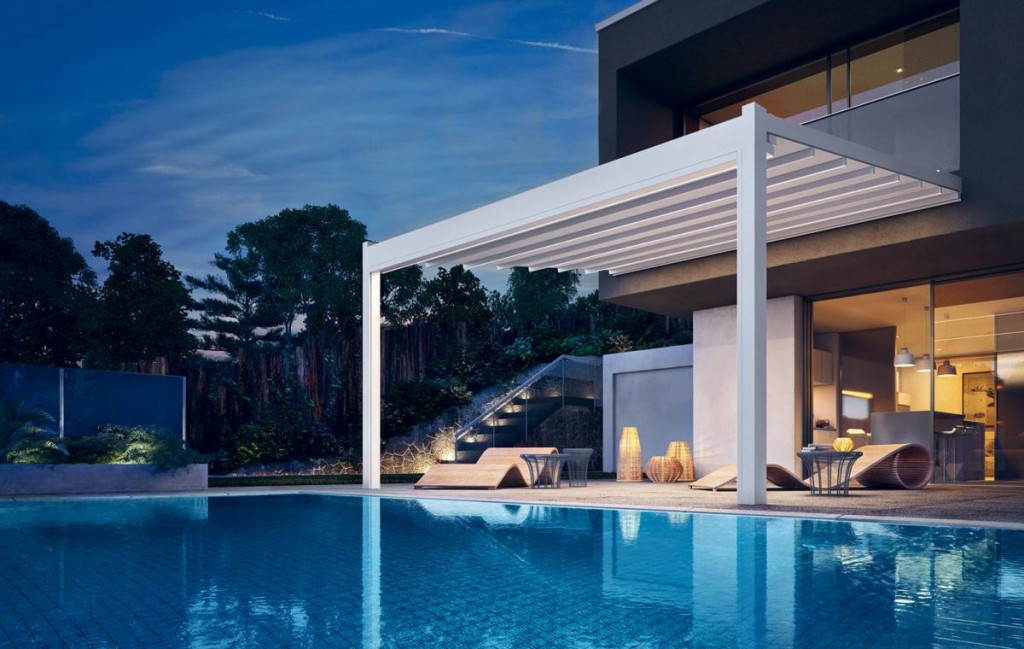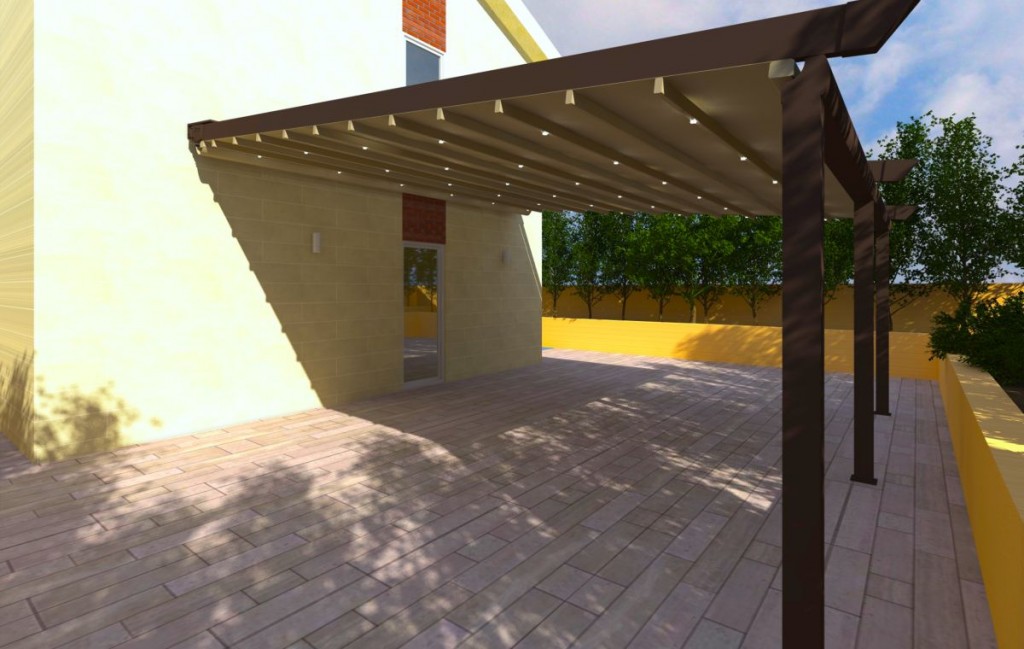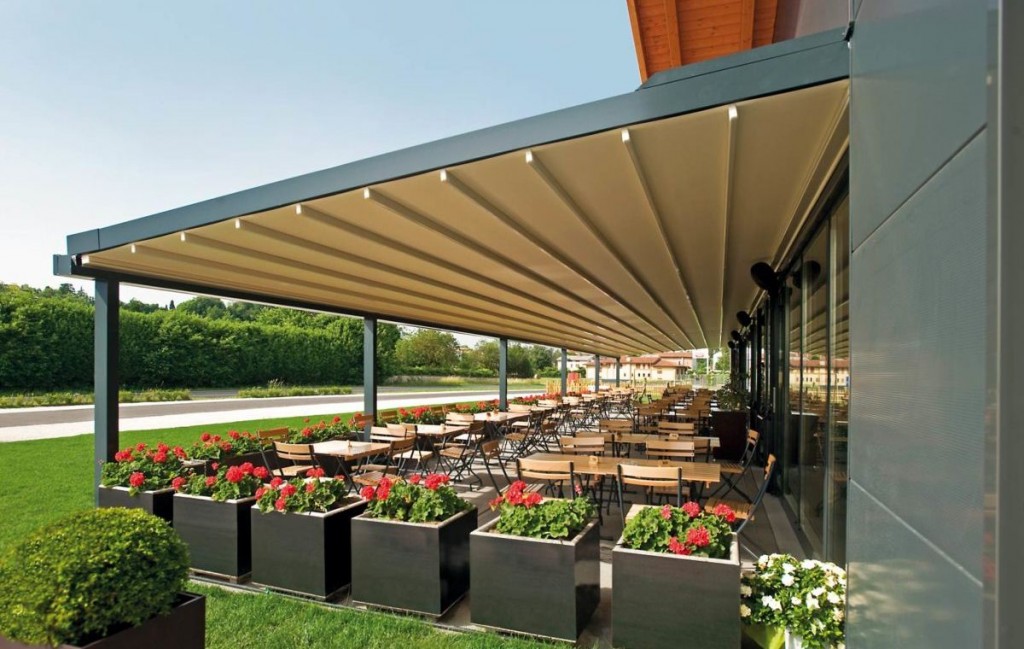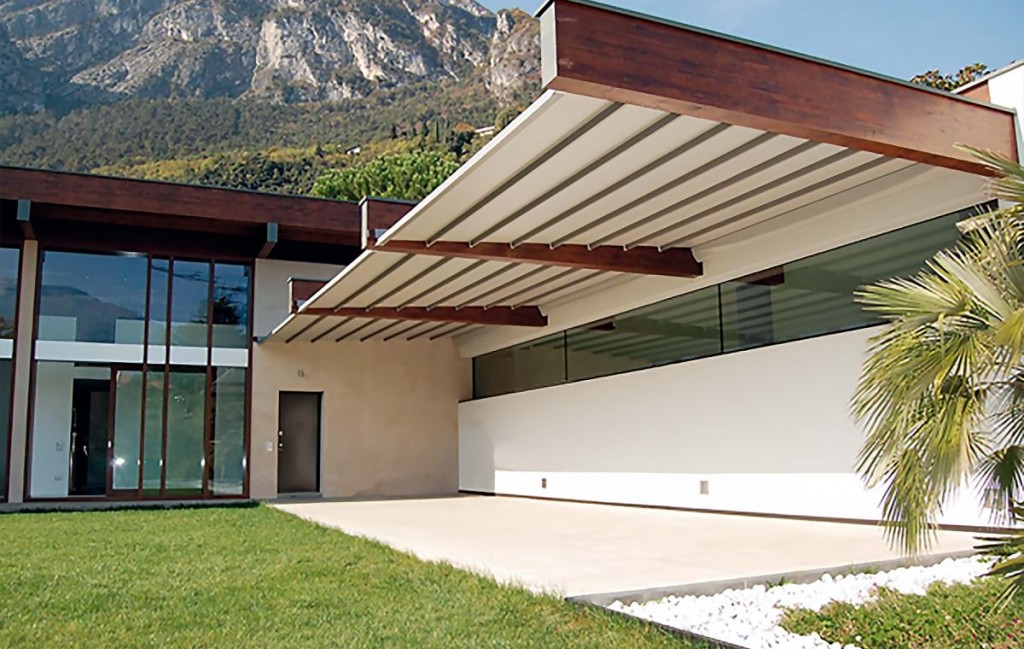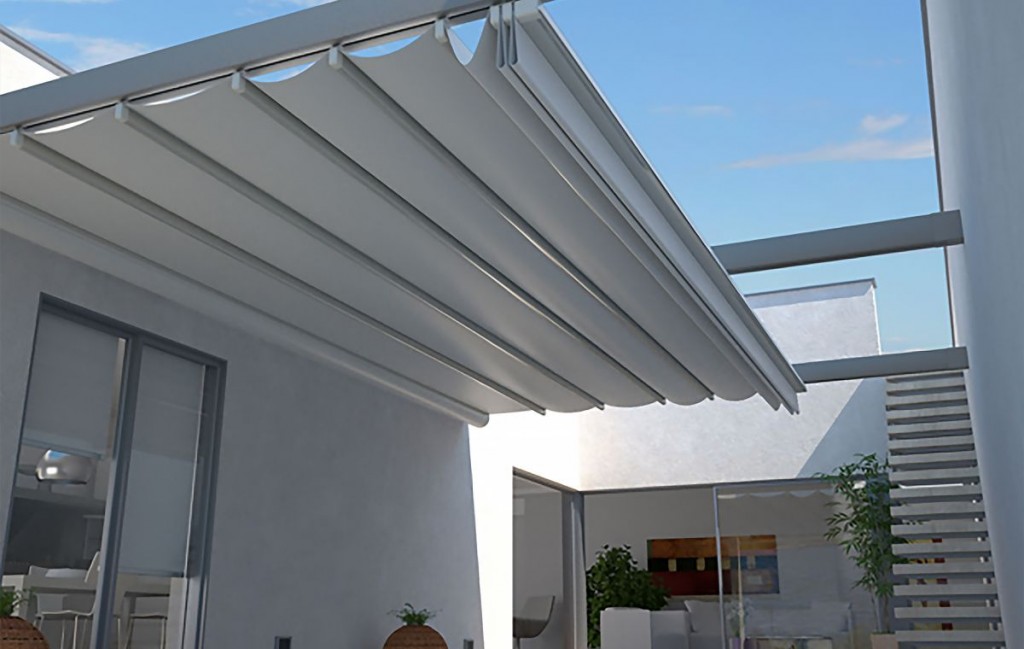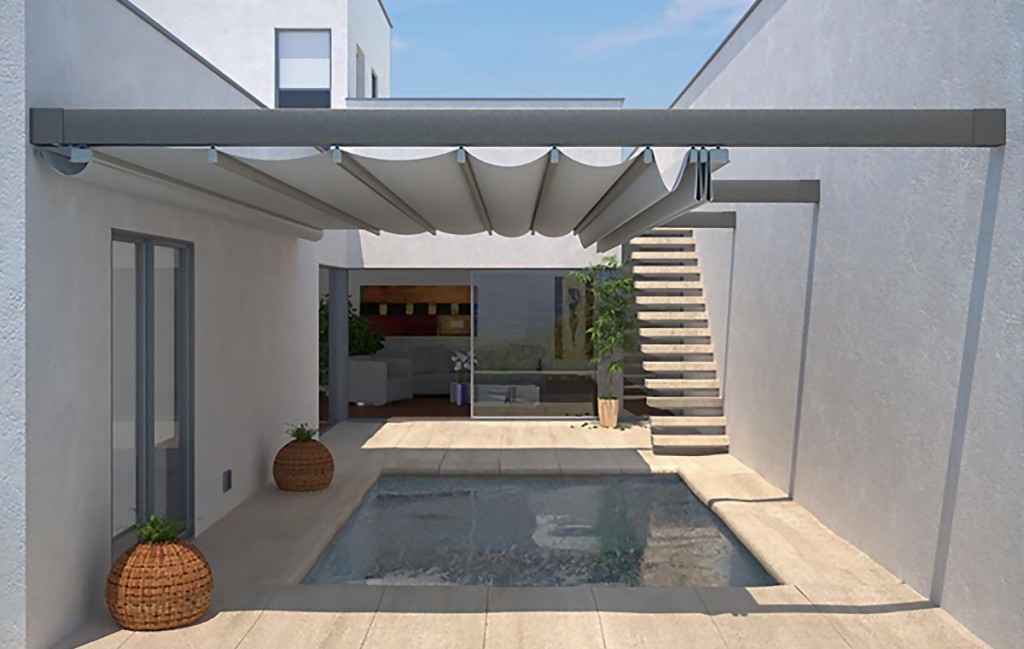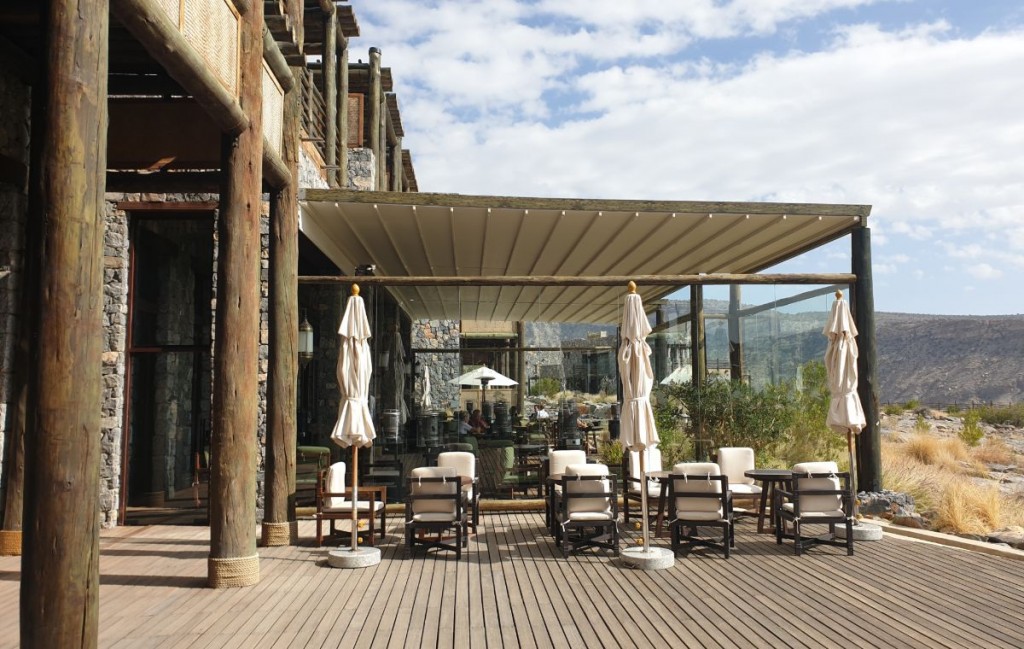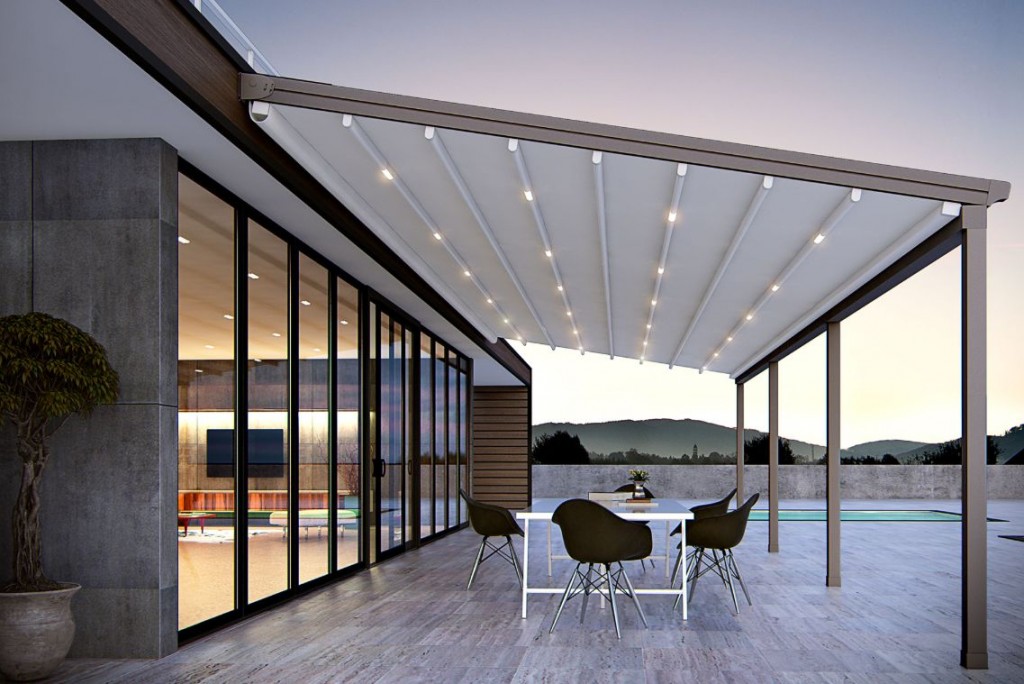 Al Usturah
Essential design, simple functionality and absolute comfort. This is how electronic Al Usturah have radically transformed homes into contract spaces.
The structures have an essential design made of aluminum, complete with a high-performing PVC retractable canvas. An expert response to the needs of architects and designers who want to offer a unique way to enjoy gardens, terraces, patios and rooftops, as well as restaurants, farmhouses and typical hospitality facilities.
Al Usturah models with PVC canvas are completely designed and manufactured for sun protection and comfort. Combined with essential lines, they are characterized by advanced technology that provide plenty of flexibility during the design phase, thanks to replicable models.
The different versions can be self-supporting, developed from scratch in a previously empty space, or they be fastened onto a wall as an elegant extension of the home. The structure can be customized by choosing from variety of colors. Extraordinarily bright paints that are resistant to sun, humidity and salt are made possible by a cutting-edge painting process within the company, which operates without using any solvents and recovers almost 100% of the powders used.
The PVC canvas that protects from sun, rain and wind, is retractable- opening and closing at the touch of a remote-control button. It has technical features that make it resistant to UV rays, poor weather, temperature changes, heat, and frost.
Rainwater is optimally managed with all the models through downpipes integrated into the structure: when it rains, the slope of the canvas makes the water flow into the gutters and then exit from the openings at the base of the structure.
The elegance of the aluminum pergolas Al Usturah with PVC canvas is completed by the LED lighting systems that create evocative evening atmospheres.
⦁ Retractable Cover
⦁ LED Line on the ribs
⦁ Parameter LED Line
⦁ Rainwater Drainage
⦁ Integrated Electric System
⦁ Free-standing pergolas pairing two models
⦁ Free-standing pergolas pairing three models
⦁ Free-standing pergolas pairing four models
⦁ Two models with different depth
⦁ Pergolas with central crossbeam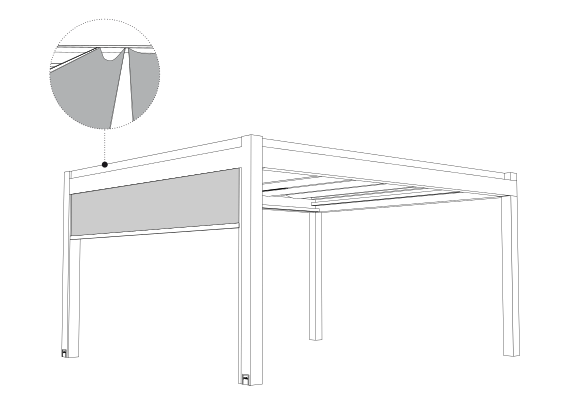 Al Usturah Layout 1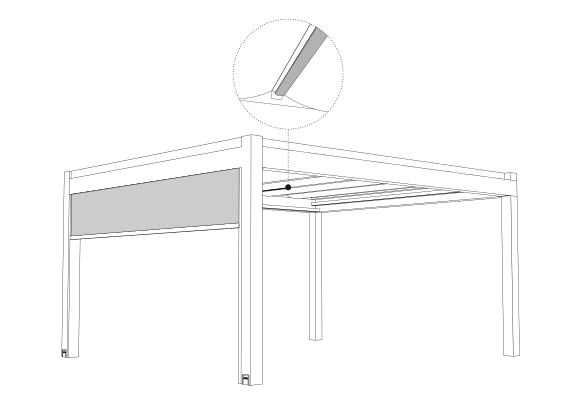 Al Usturah Layout 2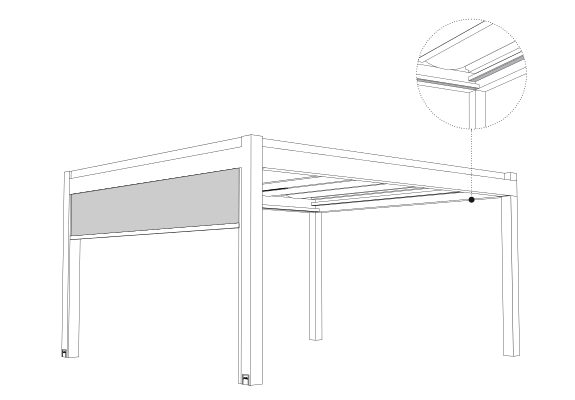 Al Usturah Layout 3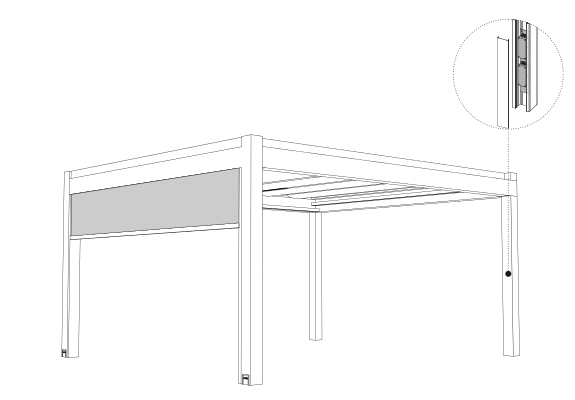 Al Usturah Layout 4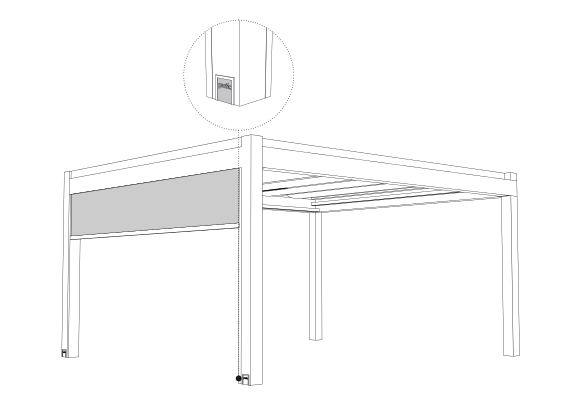 Al Usturah Layout 5
Spotlights – White & RGB
Colors and intensity are autonomously adjustable with a remote control. The white and RGB LED system is integrated into the perimeter profile sections, for a homogeneous lighting of the area underlying the structure. The remote control allows you managing both the light level and the colors variants The warm white dimmable intensity Spot. Light LED spots can be recessed into the blades of the roof.
Colors
RAL 9016 – white Standard
RAL 1013 – Ivory – semigloss
RAL 9006 – Grey – Bright Aluminum
Any Other RAL COLOR:
Shadesoman can satisfy any need. RAL colors other on demand, with specific reference to RAL color swatch.
Wooden Textures
As for Wooden textures specific colors are available.
Remote Control & Automation
Al-Usturah are operated by:
– wired motor
– Somfy IO motor and multichannel remote control
– Can be easily integrated with any local suppliers worldwide for operations through mobile devices
on iOS or Android.
All products can be equipped with
safety automations (wind, rain) and comfort automations (sun, temperature).
SMOOVE ORIGIN IO
Wall-mounted remote control.
SITUO IO
Remote control with individual or group control functions.
Smoove Origin io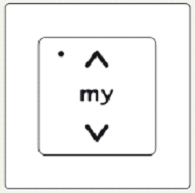 Situo 1 io | Situo 5 io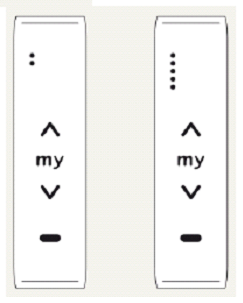 Mobile devices
Easy Integration With iOS or Android Mobile devices.
Benefits
Maximum comfort thanks to the homogeneously diffused and adjustable LED lighting developed on the basis of a careful lighting study.
Watertight tested and certified by the renowned Institutes by simulating a precipitation of 369 mm/h at a pressure of 3.4 bar in an indefinite time (except for events considered exceptional).
Wind resistance tested based on the Beaufort scale by evaluating the performance when sizes vary for each individual structure (data calculated with a complete structure of perimeter closures).
Water drainage with retractable Downspouts.
Each Al Usturah is pre-assembled and tested at the company, checking its compliance with the project, the operation and the quality of the electrical, mechanical and electronic parts.
42-function radio remote control for convenient management with just one blade unit, lighting and perimeter closures.
Minimum consumption Handling with only 1 low absorption motor (48 watts max). Technical compartment and inspection of conveniently accessible control units.
Silence feature: the movement noise was measured at 53 decibels.
Wide choice of painting, with the possibility of having different colors for blades and the structure.
Maximum security the electrical and water-drainage systems are absolutely separate. every single
electric component has a degree of protection (IP) compliant with the use. the electrical system is
preassembled and tested within the company.
Declaration of conformity Machinery Directive 2006/42/EC. Technical standards for electrical
Systems EN 60335-1 – EN 60335-2-97 EN 13561.
Mechanisms operation electric ones even at low temperatures ‒
Structure min. -10/max. 50°
Engines, min. -21°/ max.
Al-Usturah Pergolas have a 5- year Warranty standards (Electrical items 1 – year) and all motors used
are from somfy.
Al-Usturah Pergolas come with a unique identity that identify the product, guarantee our authenticity and allow you to immediately track their characteristics for the purpose of the warranty. The identity code contains an alphanumeric code and a bar code through which you can trace all the characteristics of the product: type, sizes, components, fabrics, date of manufacture.
Declaration of conformity
– Machinery Directive 2006/42/EC; 2014/30/EC
– Technical standards for electrical systems,
EU Regulation No. 305/11,
EN 60335-1 – EN 60335-2-97
EN 13561.
Declaration of conformity
– Technical standards for Aluminium components,
EU Regulation No. 305/11, EN 15088
Chemical Composition EN 573-3
Tolerance on dimensions & shape
EN 755-9. Weldability / Bendability
EN 1999-1. Fatigue Strength EN1999-1-3. Durability (against Corrosion) EN1999-1-1
AUTOMATIC ITEMS – Optional RAIN SENSOR at the first drops of water, it controls the automatic closing of the pergola.
WIND SENSOR If the set reference value is exceeded, the sensor sends the opening command for the pergola.
SNOW SENSOR the rain sensor combined with the temperature sensor to prevent the accumulation of snow.
TEMPERATURE SENSOR device that commands the opening of the pergola if the temperature falls below 2°C.
MY HAND allows you fully and autonomously driving your bioclimatic pergola directly from any smartphone and tablet. (customization & integration by your local supplier of automation).
All motors and remotes are from Somfy, hence making it accessible and universally acceptable compatibility features with most suppliers of Home Automation worldwide.
We are one of the most modern, fully integrated, manufacturing plant in the shade and sun protection industry in Oman. We manufacture parts, awnings and shading systems with high expertise, drawing on years of experience.
Contact Us
Tell us about what you need